5 Ways A Smart Answering Service can Aid in Resident Retention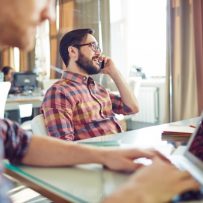 Story by: Tim Blackwell
Having an automated answering service is like having a strong bench in hockey, or any other sport. When a property is suddenly thrust into an emergency response situation, the technology is a valuable asset that helps a community navigate sometimes stressful situations.
My neighbor, Joe, an avid hockey fan, will forever remember the night that the Dallas Stars won the Stanley Cup Championship. A three-overtime thriller in the decisive Game 6 against the Buffalo Sabres won't be forgotten. Neither will the moment that he set foot out of bed a few hours after the clincher and felt a very squishy carpet.
A ruptured pipe in the bathroom flooded the second-story bedroom of Joe's home. Not until daybreak was a plumber called to fix the pipe.
Joe remembers that night much more for being a homeowner's nightmare than for the Stars' 2-1 win. Perhaps if Joe had lived in an apartment community that provided a slap-shot-fast emergency service response, fonder memories would prevail.
Meeting resident customer service expectations through fast response
Automated answering services enable apartment communities to handle emergencies quickly and around the clock, so residents get faster resolution and repairs. Hours of waiting are reduced to minutes, even seconds, for the resident.
"We're able to close the loop between resident and maintenance in less than 45 seconds," says Ryan Sweeney, National Sales Executive for the RealPage Contact Center Level One, which provides automated answering solutions to more than 12,000 multifamily housing properties across the country.
Once an emergency service call is placed, the service contacts the property's designated on-call maintenance technician within seconds. Once the technician gets the message, a call is automatically generated from the technician to the resident to start the repair process.
Sweeney says a big part of the company's success is the efficiency in which emergency maintenance calls are dispatched and the reporting that follows. The system records the call for quality assurance and logs critical information that administrators can review. Properties get a clear picture of how things are handled by their staff in the event of a maintenance emergency, to use as baselines for improving future services.
"It's about improving the resident experience through enabling apartments to respond and resolve faster and more efficiently," he said. "Today, residents expect a high level of customer service. Fast responses are critical."
An automated answering service is a perfect complement to live agent response for properties that want a low-touch option for calls to be answered and managed, Sweeney says.
Here are five advantages of automated answering services he offers:
Consistent Professional Greeting of Callers – Automated answering services that offer properties the option of recording custom greetings help make residents and potential residents feel more at home than those generically recorded systems. Properties can follow a recommended script or create their own message for a more personal touch.
Speed of Handling Emergency Maintenance Calls – In some cases, live answering services that represent multiple properties can put the resident on hold for long periods of time or answer as the wrong property, which doesn't bode well as water rushes from under walls and out of cabinets. Automated answering services enable the caller to quickly choose from options, including emergency services. Once an emergency service request is made, the technician on duty is called, usually within 20 seconds after the message is left.
Low Flat Rate and Budget-Friendly Cost – RealPage's automated answering solution offers a low flat rate, unlike other services that charge by the call. The steady rate is not only budget-friendly but it allows the property to take as many calls as necessary to ensure a high level of customer service without being nickeled and dimed, Sweeney says.
Reporting and Call Analytics – A big advantage, says Sweeney, is system-wide reporting so that property managers can see precisely when calls are received, what days of the week they're coming in and how quickly the maintenance team responds.
Covering the Bases – Because live answering services charge by a block of calls or they have a per-call charge, apartments may not always send calls to the answering service automatically, even for emergencies during normal business hours. That can create a gap in service, Sweeney says. "They want calls to go to the answering service when they send them to the answering service because they don't want to get hit with a bunch of call charges when they are there and should be answering the phones." The service can also cover calls from leasing prospects that are missed by site personnel.
When it comes to customer service, an automated answering can act as a team player to your maintenance staff. Ultimately, service request response time can shape how residents evaluate customer service, which is often critical to retention. And, it can be a critical advantage for apartment residents, especially for peace of mind on those championship nights, when home should feel like home.