5 Skills Millennials Need To Survive Today's New Economy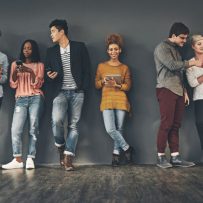 You never know who you might meet in the course of your work day at a part-time job, even if you're serving coffee.
I didn't wake up one morning and think, "I want a career in insurance." I fell into my career. Believe it or not, I took first-year insurance at university because I met a guy in the registration lineup and we ended up dating. I thought it would be a "bird course" since my mom worked for an insurance company and she could help me out.
Several (not so bird) exams later, I graduated and landed a job as an actuary. It was difficult, but I'm glad I persevered because that experience gave me a lot of different career options in business, given the strong mathematical background required to understand numbers and what drives the financials. But it wasn't where I ultimately ended up, and I had to learn a lot of other skills along the way to get where I am now.
I left the industry in 2003 to care for my mom who was sick at the time, and struggled with unemployment for a while as I tried to get back in. It was a tough time, and I can certainly empathize with post-secondary graduates who are struggling to find a job nowadays.
Technology is advancing so quickly, creating drastic changes in the workplace. There are jobs today that didn't exist five years ago, and in five years there will be new jobs that don't exist today. Yet we haven't kept pace with technology in the way we're educating the future generation.
In fact, according to new research by RBC Economics, in the decade ahead more than one-quarter of Canadian jobs will be heavily disrupted by technology, while half will go through a skills overhaul. There will be jobs, but they'll require different skills.
While pursuing studies in math or health sciences is likely a good career bet, it's not only hard skills that people need to be successful. The research shows a growing demand for soft, or "human" skills, as well. Skills such as critical thinking, creativity, communication and the ability to collaborate are equally as important. So, if I were to give advice for career success to my niece or someone like her, who will be graduating in 2021, it would be the following.
Build social skills
Personality and communication counts. There are some people that work at the local Starbucks whom I'd definitely consider hiring if they were looking for a job in insurance. Why? Because they are not only good at what they do (conscientious,) but they're good relationship builders and make an effort to get to know me. By taking an interest in me and what I'm saying, even during such a quick exchange, they show they care about their work and about their customer. That makes them stand out as potential candidates that I'd be willing to test in an interview.
Network
Given the high number of online applicants and keyword filters, you're more likely to find a job through your network, starting with family and friends. Never ask them for a job directly, because that's too much pressure, but be interested in what they do.
When I was unemployed, I would invite my contacts to meet for coffee and ask questions about what they did, and what the people around them did. It's the best way of finding out information, while also being on their radar. Use your contacts to get new introductions, and don't be afraid to leverage them.
Learn
Young millennials are on track to surpass four job changes by the age of 32, and that will only increase thanks to global competition. More than ever, "learnability" and agility is critical. Don't limit or pigeon-hole yourself to one role. Look at the big picture and how to apply your skill set to different roles to open up your horizons.
Some employers may have a limited view of what you can do, so connect the dots of how your skills match-up to what they need. And remember, the job you're hired for is not necessarily the one you'll end up doing; one position can lead to another, so don't be afraid or think you're too good to start at the bottom.
Be professional
I've known my boss for 14 years, and while I have a license to be casual now, I never spoke to him informally or used slang in the beginning. Although I can often come across as quite casual, I always present myself professionally to senior executives.
But I've encountered millennials who, although quite talented, are a disaster when it comes to corporate behaviour. How well you are able to articulate and how you speak to others matters. And, even though many businesses have relaxed their dress codes, appearance still counts.
Find a mentor
This could be a friend, a parent or anyone whose experience you value. I've always looked to see what attributes others have that I would like to incorporate into myself. One mentor was a boss I had for only 10 months, but our relationship has continued long after that, and I can still count on her for thoughtful conversation and coaching.
But perhaps some of the best advice came from a colleague, a former senior executive at RBC who is now retired. As her mother once told her, "No matter how menial the job is that you are doing, own it and do the best you can."
You never know who you might meet in the course of your work day, even if you're serving coffee.