5 Questions to Ask During a Landlord Reference Check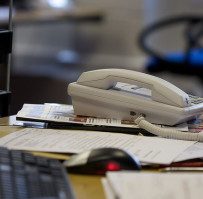 A rental applicant who looks great on paper isn't necessarily risk-free. The best way to avoid potentially troublesome renters is by requesting a reference check from their previous landlords. A renter who is coming up on the end of a lease and desperately trying to find a new place may not have any qualms about being dishonest when answering your screening questions. Skip the uncertainty by asking the applicant's previous landlords the following five questions.
Was the rent paid on time and in full?
This question will help you gauge how responsible a renter is. A resident who will have the rent to you by the first of every month will make your job a lot easier. Avoid the hassle with late payments and warning notices by asking the previous landlord if payment punctuality was ever an issue.
Did the tenant take good care of the home or property?
There's no doubt that you want your new tenant to treat your property with respect. Ask their previous landlord if there were damages caused during the tenancy that went beyond normal wear and tear. Renting to someone with a history of property damage could be both risky and financially costly.
Did the tenant display disruptive behavior?
Even the most financially responsible resident could cause problems. Be specific when you ask this question by using examples: were there any noise complaints, frequent loud parties, or problematic behavior with the renter's pet? Leasing to a disruptive tenant could result in frequent complaints from unhappy neighbors.
Was the renter a good communicator?
You're not going to be best friends with your tenant, but you are going to need to get ahold of him or her concerning property maintenance, notice of entry, or late rent payments. A renter who doesn't answer emails or respond to phone calls will make your job a lot more difficult.
Would you rent to this person again?
If the answer is anything but a "yes," you should rethink accepting the applicant. The previous landlord's recommendation should give you a good idea of the behavior to expect from the renter.
While it's important to screen applicants to root out potentially problematic renters, don't rely on their previous landlord as your primary source to vet the applicant. A thorough screening also includes pulling a credit report, conducting a criminal background check, and requesting a reference from their employer.
Story by: JENNIFER CHAN