40% of Canadians want Morneau out as finance minister: Survey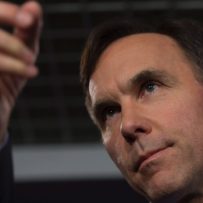 It's gone from bad to worse for Finance Minister Bill Morneau.
A new Nanos survey released Monday shows four out of every 10 Canadians want to see a new finance minister as public opinion sours over Morneau's handling of controversial small business tax changes and the handling of his personal finances. Twenty-nine per cent said he should continue in his role, while 31 per cent are unsure.
The critical stance is most pronounced in the Conservative-bastion of the prairies, where more than half of respondents said it was time for a new finance minister, followed by Atlantic Canada. Central Canadians were more forgiving, with 42.1 per cent of Ontarians calling for a replacement and only 31.6 per cent in Quebec.
There's little in the way of comparison for such sour sentiment, according to Nanos Research Group Chairman Nik Nanos. In an email to BNN, Nanos said he'd never seen a need to conduct a poll of this manner, and that most finance ministers don't run into the types of problems that have beset Morneau.
The poll also casts doubt on whether the Federal Liberals' claims of working on behalf of the middle-class are being heard by Canadians.
A mere 14 per cent of respondents said they thought the economic policies implemented by Ottawa benefit middle-income Canadians, while more than 40 per cent thought they were a boost to the high-income earners.  
The poll comes on the heels of another Nanos report indicating 34 per cent of Canadians thought the Finance Minister is doing a poor job, once again with the brunt of the negative sentiment emanating from the Prairies.
Of particular focus is Morneau's disclosure, or lack thereof, of assets held in numbered companies and his continued stake in the family firm, Morneau Shepell. In the latest poll, 75 per cent of respondents said the finance minister should have sold his assets or put them in a blind trust, rather than the privacy screen he put in place.
Morneau has since decided to sell his stake in Morneau Shepell, donate the dividends and share price appreciation to charity, and place the remainder of his assets in a blind trust.
The poll was conducted from November 4-7, with a margin of error of 3.1 percentage points, 19 times out of 20.