4 ways developers are using virtual reality to boost sales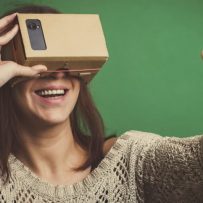 Story by: Awane Jones with Alan Shekhtman and Averie Hah
With the rise of digital technology, real estate developers that are taking advantage of virtual reality software and off-plan sales have started to take off in major cities like Miami, Los Angeles and Dubai. 
With so many foreign buyers looking to buy off-plan for financial incentives, tech-savvy developer groups, such as Montoni in Laval, Que., have leveraged the newest virtual reality technology to raise their off-plan sales higher than before.
Here are four ways developers can use virtual reality to close deals and stand out from the crowd:
1. Catch serious buyers
A virtual reality rendering can accurately create a building walkthrough before the building is actually built. Because of this, only serious buyers take the time to walk through the property in virtual reality.
A VR tours company, YouVisit, saw a 30 per cent increase in physical visit requests after creating virtual reality property tours. Since serious buyers look for buying confidence when it comes to off-plan purchases, a virtual property walkthrough will engage their interest and improve their willingness to commit. This phenomenon improved YouVisit's conversion rate to 12.3 per cent – a tough number to reach in their industry.
Reaching serious buyers has never been easier with the growth of Mobile VR. More than one million active users used the Samsung Gear VR headset with their smartphones in April 2016.  With a virtual reality property application and the convenience of seeing it on someone's mobile device, developers can find the needles in the haystack much more easily.
2. Increase construction budgets
Virtual reality has been known to have an emotional effect on people due to the feeling of presence that one has while in a VR experience. A Stanford study found that people who watched a VR film about deforestation later used 20 per cent less paper than those who watched a regular movie about the same topic. The study demonstrates that people have a much greater emotional response to VR than to video alone.
The same effect can be used when developers are looking to increase construction budgets. Guy Messick, director of design for IA Interior Architects, saw investors raise the construction budget by 10 per cent when he showed them a VR building visualizer of a large building before it was built. Asking for budget increases becomes so much easier with this kind of tool. Other large developers have begun to catch on as McCarthy Building Companies, a 150-year-old company in Roseville, Calif., has used VR to build massive hospitals and offices. This technology is a tool that can enhance real estate business due to its visual capabilities.
3. Buyers will see the property any time
Creating a virtual reality application for an off-plan building will allow potential buyers to access properties on a 24/7 basis. This is an important feature for buyers who take more time to make buying decisions. If they can access the property and walk around in it any time they want, their attention will be highly fixated on that property. In addition, with virtual reality, the average time of engagement increased up to 13 times more than other forms of advertisements. Since potential buyers can actively engage with the future property for a long period of time, the property will be embedded in their minds. In order to create a lasting impact on the right buyers, developers can use this virtual reality tool to get their construction sites into the minds of important people.
4. Learn what your customers need
Arguably, one of the best ways to use VR technology is to use it to understand your customers. Since building walkthroughs are done using gaze control and hot spots, developers can collect data on what potential buyers are looking at most frequently. Having this data allows them to focus precisely on the construction elements that are most important for buyers. This will allow the developer to guide the construction that will best favour what the customer looked at. After all, if the devil is in the details, it's very important to know which details are the most important.
In addition, VR applications allow buyers to customize the interiors and exteriors of the properties of their liking. They can choose colours, shapes and sizes that better fit their preferences. After they've made their choices, they can see how it would look in real time. This kind of technology will provide customer analytics that can define one's customers better than anything else.
With advances in technology on the rise, real estate firms cannot lag behind. Powerful tools have been invented to facilitate sales and revolutionize real estate marketing.
According to NAI sales agent Bill Gladstone of Camp Hill, Penn., with off-plan properties, "the goal is to find the largest number of buyers in the shortest period of time. Exposure will help meet that goal." In order to achieve this goal while building buyer confidence, developers have to use new technology in intelligent ways. VR is one of the tools that will get them there.