$300 million multi-family project announced for East Village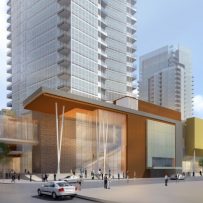 RioCan Investment Trust and Embassy BOSA are teaming up to build a $300-million multi-family residential project in East Village that will include a Loblaws market as the first retail tenant in the development.
The development will consist of 500 new condominiums.
"This new investment is a powerful testament to the momentum we've created here in East Village," said Michael Brown, president and chief executive of Calgary Municipal Land Corporation. "We have now attracted more than $2.2 billion of investment to the neighbourhood, and over 80 per cent of our land inventory is now committed.
"To have two of Canada's strongest developers teaming up in East Village is impressive. Next year, some of the residential and retail space currently in development will be complete – including two condominium towers and the retail space in the Simmons Building."
Embassy BOSA's total number of committed units in the East Village now sits at 1,100. In October 2010, it committed to delivering about $325 million of mixed-use, multi-family residential development including over 600 new residential units to the neighbourhood in the first major land development deal in East Village in more than a decade.
"Calgary is on the tipping point right now, with condo living becoming a more sought after alternative to suburban life," said Ryan Bosa, president of Embassy BOSA. "The future of Calgary is up not out, and developments like the East Village showcase how Calgary is creating vibrant, sustainable communities."
The development is at 6th Avenue and 3rd Street S.E.
"We are currently developing plans for this new urban Loblaws store. We're excited about this opportunity in Calgary's downtown core and will share more information as it becomes available," said Stuart Craig, RioCan's vice president of planning and development.
Officials said construction of the RioCan/Embassy BOSA project will proceed in two phases. The first, expected to take nearly three years from the start of construction, will include a retail podium with about 200,000 square feet of retail space and a 40-storey residential tower. Construction of the second phase – a 23-storey residential tower – is expected to take an additional 12 months.
"The sculptural concept for the towers envisions sheets, or planes of glass, layered to open up to the fantastic city and Bow River views," said the companies in a news release. "An abundance of angles have been introduced to maximize sunlight exposure. The glass facade extends beyond the building to create 'free-floating' fins and allow the planes of glass to be uninterrupted to the roof. The planes of glass on each facade soar above the main roof to lighten the form. A rotating balcony that creates a dynamic diagonal line is a signature design element.
They hope to receive a development permit in late spring 2015 and begin construction next summer.
East Village is expected to be home to more than 11,000 residents upon completion in 2027.
Story by: MARIO TONEGUZZI, CALGARY HERALD
mtoneguzzi@calgaryherald.com  |  Twitter.com/MTone123