$300-million development in Hamilton announced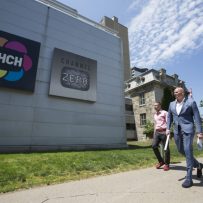 Earlier this week, Lamb Development Corp. announced Television City, a $300-million residential/retail development to be built in Hamilton, ON.
Billed as a "large scale world-class" project, Television City will occupy 44,000 sf of land, making it the largest plan proposed in Hamilton so far. It will play host to around 618 units in total once completed, with 485,424 sf of usable space (474,080 sf for residential use and 11,344 sf of retail space).
Condos will be sold through the site sales office, which will open in mid-to-late September. Target date for occupancy is August 2021. 
Units will start at around $220,000, approximately 35 per cent lower than comparable Toronto condos. Available styles include studio, one bedroom, one plus den, two bedrooms, two plus den, three bedrooms and penthouses, from 400 to 2,000 sf.
The development will be designed by Peter Clewes of architectsAlliance, with interiors by Kelly Cray of U31. A heritage mansion currently on-site is slated to be repurposed and maintained as part of Television City.
"We preserved the heritage of the 1850s mansion that housed a broadcast studio for over six decades through features like the playful display of vintage televisions," Cray stated. "The overall aesthetic is nostalgic but modern, with nods to media, expressed through reintroduced elements such as graphic wallpapers containing subtle retro nuances."
"Hamilton is in the midst of a cultural renaissance, making it one of Canada's most exciting cities. Its growth represents tremendous opportunity for residents, entrepreneurs and investors," Lamb Development Corp. CEO Brad Lamb said.
"The emerging culture, hospitality, medical and technology scene, along with the recent surge in locally based investment, combine to create a vibrant city for buyers and residents of Television City."