30% of Toronto households plan to list homes amid government intervention: Survey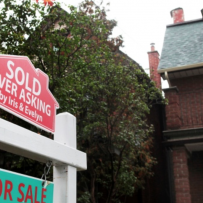 Uncertainty about fallout from the Ontario government's 16-point plan to cool the country's hottest housing market is pushing more homeowners to cash in.
The Toronto Real Estate Board released survey data on Friday showing 30 per cent of households in the Greater Toronto Area say it's likely they'll list their home in the next 12 months. Fifteen per cent of respondents said intervention by Kathleen Wynne's Liberals was the main reason for choosing to put their house up for sale.
"It is interesting to note that almost 80 per cent of these households will be purchasing another home. This means that these households are not exiting the home ownership market, but, instead, changing the type or location of home they will own," said TREB Director of Market Analysis Jason Mercer in a statement.
The latest monthly data from TREB illustrated how the government's plan is hitting the market. Sales across the GTA tumbled 20.3 per cent year-over-year in May, while active listings surged 42.9 per cent, and the average selling price jumped 14.9 per cent from the prior year.
Meanwhile, the survey also shows some first-time buyers are moving to the sidelines while they wait to see the full impact of the government's new rules, including the tax on foreign speculators.
Forty per cent of respondents who say they're planning to buy a home are first-timer purchasers, compared with 53 per cent in a similar survey conducted last fall.
"It makes sense that some first-time buyers have decided to at least temporarily put their decision to purchase a home on hold…New policies, like those contained in the Ontario Fair Housing Plan, can have an initial psychological impact before long-term impacts become clear," Mercer noted.
The survey was conducted by Ipsos Public Affairs from May 23 to May 29.