3 trends expected to define Calgary's housing market in 2019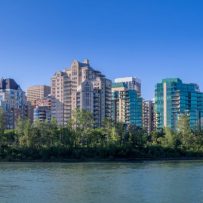 With 2018 nearly over, Calgary's housing market has yet to recover to previous heights, the result of a drawn-out slump resulting from lower oil prices and the knock-on effects that's had on employment.
But how about next year? Ann-Marie Lurie, the Calgary Real Estate Board's chief economist, suggests the market will continue to face a number of headwinds in the coming year.
"The current situation that we're in is we have an oversupplied market, prices have been trending down, and we just haven't seen the pickup in the economy — at least in Calgary — as what was expected, so that's really what we're seeing leading into next year," explains Lurie.
Below, Lurie highlights three factors that she expects will influence Calgary's housing market next year.
Employment struggles
"Are we truly going to start to see some change in unemployment?" asks Lurie, who says Calgary has the highest jobless rate in Alberta at more than 8 percent.
"Employment growth is not expected to be that strong, and that's going to be one of those factors that's going to weigh on our housing market next year," she continues.
Higher interest rates
Interest rates are anticipated to be another challenge for Canada's fourth-largest city next year, with many market observers predicting the Bank of Canada will continue hiking the overnight rate, which influences mortgages. If the labour market outlook was better, this wouldn't have as much of a cooling effect.
"If you have strong wage growth… it can help offset those changes," says Lurie. But because that's not largely not playing out in Calgary, demand will remain hampered in 2019. "It's one of those things that… really confirms the fact that we think that some of that demand activity is just not going to improve that much," she notes.
Heightened-but-easing supply
As oversupply of housing has plagued Calgary's market in recent quarters. Earlier this month, the national agency Canada Mortgage and Housing Corporation renewed its evaluation of the market: there is strong evidence in Calgary of overbuilding.
CREB's Lurie does see supply levels moving lower, but not in the immediate future. "There's still a lot of inventory on the new home side and the resale side, but we would anticipate that that should start to adjust to lower demand levels, so that should help really the oversupply in the market — but that's going to take some time."