3 things to expect from the Bank of Canada's Monetary Policy Report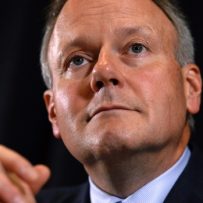 The Bank of Canada is set to deliver its key interest rate decision and release its quarterly Monetary Policy Report Wednesday – the first since the Nov. 8 U.S. presidential election. It also comes just two days ahead of the inauguration of U.S. President-elect Donald Trump.
BNN.ca spoke to Brian DePratto, senior economist with TD Economics, about what to expect from the Bank of Canada next week, with a focus on key issues likely on Governor Stephen Poloz's radar.
BOC LIKELY TO KEEP RATES UNCHANGED
The U.S. Federal Reserve hiked its key interest rate in December, just over a month after the U.S. election. DePratto said the decision, along with rising expectations for a faster pace of hikes going forward, is likely to be a key theme for the Bank of Canada in the upcoming report.
"Governor [Stephen] Poloz is likely to want to continue pushing back against spill-over effects in terms of yields and rate expectations, reminding Canadians that our economy is at a different point in the business cycle, and so the Bank of Canada is not going to follow the Federal Reserve in tightening," he said.
DePratto noted that while Canada's economy has shown signs of resilience, Trump and inflation are two issues Poloz might use to support keeping rates on hold at 0.50 per cent. The BoC left its benchmark interest rate unchanged in December, its final rate decision of 2016.
TRUMP UNCERTAINTY WEIGHS
Trump held his first news conference in New York on Wednesday where observers hoped he would discuss his strategies for fiscal, trade and defence polices. He didn't lay out detailed plans for any of those areas, so uncertainty about where Canada's relationship with the U.S. is headed will likely be another factor influencing the BoC, DePratto suggested.
"Until further clarity around President-elect Trump's fiscal and trade policies emerges, considerable uncertainty remains around the outlook for Canadian exports and investment, and Poloz has shown a willingness to 'wait and see' in the face of uncertainty before," DePratto said.
Amid the uncertainty, findings from a BoC report released earlier this week revealed a greater number of Canadian firms expect to benefit from what they anticipate will be stronger post-election growth in the United States, but they also expressed concerns over possible protectionist measures from the new administration.
INFLATION ANOTHER KEY CONCERN
Canada ended 2016 with a whimper as the country's annual inflation rate slowed to 1.2 per cent from 1.5 per cent (mostly due to lower food costs). DePratto said inflation may be the most important issue on the table for the BoC.
"Both the Bank's old and new measures of core inflation have decelerated in recent months – this has clear implications for the Bank's mandate," DePratto said. "Inflationary developments are likely to be a major point of concern for Poloz, and we expect to see a bit more discussion of the inflation outlook than might be typical."