3 Key Focus Points for Your Digital Strategy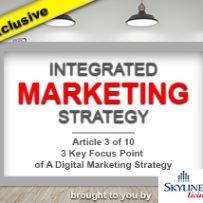 In today's wired world there is no denying that renters have shifted their behaviour from analog to digital. Landlords that have not recognized this fact need to quickly shift their digital marketing strategy to better attract and communicate with renters in the digital world.
Here are three key things that you need to have in your strategy to remain competitive in the Canadian apartment industry today:
1.   Be Online
Canadians spend more time online and visit more sites than anyone else in the world. More than 80% of shoppers start their search online before making large purchases, using online searches and information to narrow down their options. Start creating your digital marketing strategy with the basics: if you don't already have a website, you need one.
What should you include in your website?
Photos: Renters want to be able to see the unit before coming to visit the property. Include as many photos as possible or, better yet, provide a virtual tour of the property Studies have found that our brains process images 60,000 times faster than text. It's your pictures that will really get their attention..
Location Information: Explain to your potential tenant the benefits of living at your property. Are you close to a particular school? Are you close to shopping or a major attraction? Find out what is appealing in your area to your target market, and highlight those features.
Background Information: Tell your prospective tenant about your company. They are not buying a chocolate bar from you – this is their home. Giving an overview of your history starts to gain trust and credibility by building a relationship with a renter. For example, the Skyline Living website provides the Skyline company overview as well as an explanation of the Skyline Living brand.
Consistency: As I discussed last month with branding strategy, consistency is key to developing trust with your customers. Your website is an extension of your brand, so it should have the same look and feel as your lawn signage, advertising and any other communications that you send out. For example, if your brand promises to be honest and transparent, your website should be upfront about hidden fees for parking, pets, or air conditioning.
How do you get a website?
While there are many people and companies capable of building you a website, it's important to consider how complex this industry is. If you start from scratch, you may end up spending time and money to have your developers replicate what already exists. Established developers in the industry understand the unique challenges of property management; they've seen it before, and have already solved problems non-industry developers didn't even know you had.
2.   Be Mobile
Today being mobile matters more than ever. You can't visit a local restaurant or walk down the street these days without seeing someone using a smartphone – that's because a staggering 49% of internet usage in Canada is now on mobile devices. Having a mobile friendly website is critical in today's marketplace. Even Google has announced that it is giving priority in search engine ranking to mobile friendly websites.
Despite how critical it is, nearly 8 out of 10 businesses don't have a responsive web site. If you want to differentiate from the competition, becoming mobile friendly can have a big impact on your search rankings, traffic, and overall customer experience.
Make sure that you ask your website developer for a responsive design. Responsive design uses unique layouts for different screen sizes to provide a "custom fit" for people using mobile phones, tablets, and laptops, ensuring that you can grab their attention no matter what device they are using.
You can test your website's mobile friendliness by opening it on a mobile device, or simply resizing the browser window – if the content and layout shifts and resizes automatically to suit the screen, the site is mobile friendly. A great example of mobile friendly design is the 2014 FRPO M.A.C. award winner for Best Property Management Website, William's Court.
3.   Be Reachable
Because they carry smartphones 24/7, renters expect to communicate digitally with their landlords at all hours of the day. Make it easy for them to contact you online. Allow your renters and prospects to text, email, and submit feedback online. Also, make sure that the phone number that appears on your mobile website is a click-to-call phone number, as this allows users to call you without dialing.
Summary
The bottom line is that the digital age is upon us, and landlords that don't embrace changes in the marketing climate are going to suffer the risks. Be online, be mobile, and be reachable; if you're not, prospects will find someone who is.
About the author: Sarah Rodrigues is the Advertising Coordinator for Skyline Living, a division of the Skyline Group of Companies, which operates 142 apartment communities in 46 cities across Ontario, Quebec, Alberta, and British Columbia. She has worked in communications, project management, advertising, and marketing in a number of industries. Feel free to connect with her on LinkedIn.