$289,772 PER UNIT: NORTH VANCOUVER RENTAL TOWER SELLS FOR RECORD PRICE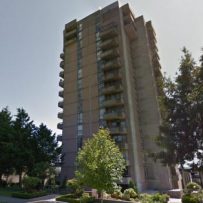 Talk about solid investments: two concrete apartment buildings have been sold in North Vancouver.
A 15-storey, 88-suite high-rise in the Lower Lonsdale neighbourhood marks the first high-rise, purpose-built apartment building sold in 23 years in North Vancouver (151 East Keith Road, shown in the picture).
An 18-suite low-rise, in Vancouver's tony Kerrisdale area, has also been purchased by a developer as part of a land assembly.
Both transactions were reported in the most recent edition of The Goodman Newsletter prepared by HQ Commercial and its principals, the father and son pair of David and Mark Goodman.
151 East Keith Rd. was purchased by Starlight Investments, a real estate investment and asset management company which paid $25.5 million at a 3.3 per cent capitalization rate according to Business in Vancouver.
The building is fully rented and has a cell phone antenna, which generates $31,000 in annual revenue.
Built in 1975, the building has panoramic views of Vancouver's coastline and 48 of the 88 suites have been renovated in the last eight years.
"The 3.3% capitalization rate is low compared to other North Vancouver transactions, but it is hard to compare given that other rental buildings that have sold in the area have been wood-frame structures," Business In Vancouver reported.
Concrete buildings unusual in Vancouver
The Kerrisdale low-rise sold for $9 million and was advertised as having "excellent potential for (land) assembly with the neighbouring properties on either side to create a large development site."
A Globe and Mail story last spring noted Vancouver developer Michael Geller – who, among other things has previously built a concrete mid-rise – said concrete mid-rises are common in Toronto and Montreal, but not in Vancouver.
"Fifteen years ago, it was simply not done in B.C. – mainly because the local construction industry was not familiar with it and the premium was so high," Geller told The Globe and Mail.
Today, however, some premium builders are using it in new construction in B.C.
Last year, 14 Property Group Inc. completed  a new multi-use development called 700 Marine and marketed through Sotheby's.  700 Marine is a concrete mid-rise building with 26 units starting from $299,000.
On its website, the developer list "seven reasons to own at 700." The No. 1 reason: "700's concrete and steel construction is built for life – now, 10 years from now, and 100 years from now. Concrete is quieter, more durable and an altogether better investment than a wood frame home."
Starlight Investments
Toronto-based Starlight manages $3.5 billion of Canadian multi-residential and commercial properties for a joint venture partnership with an institutional partner, True North Apartment REIT, True North Commerical REIT, Starlight U.S. Multi Family Core Fund and for private investors.
The company's portfolio consists of approximately 27,000 multi-residential units across Canada and the United States and nearly two million square feet of commercial properties.
Daniel Drimmer, who created Starlight in 2011, founded TransGlobe Property Management Services Ltd. in 1995 and grew its portfolio from a few residential real estate assets to the third-largest multi-family building owner in Canada.