281 RENTAL UNITS PITCHED FOR CENTRAL LONSDALE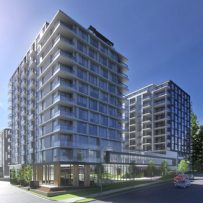 A sizable new all-rental development in Central Lonsdale is headed for public hearing.
City of North Vancouver council voted unanimously Monday night to advance a proposal from Nacel Properties to build 281 rental units and a new public park at 250 East 15th St.
If approved, the project would include two 12-storey towers fronting 15th Street across from Evergreen House and the Lions Gate Hospital campus, as well as a six-storey building facing 16th Street, and a new park on the corner of 16th and St. Andrews Avenue.
The unit mix includes 34 studios, 148 one-bedrooms, 44 two-bedrooms and 57 three-bedroom suites.
Under the city's policy, 10 per cent of the units will be offered at 10 per cent below Canadian Mortgage and Housing Corp. market rental rates for a period of 10 years.
The site is currently home to two 1964 rental buildings containing 101 units.
In broad strokes, council had few qualms with the project as a whole when it passed first reading by council Monday night.
The 266 underground parking spaces, however, stoked some debate.
Mayor Linda Buchanan said that was almost 100 more than the city's zoning bylaw required, which runs contrary to the city's goals to reduce car dependency, and adds costs to the project.
"At end of the day, that cost goes on to rent. And the rent already is astronomical in the City in North Vancouver. The whole reason for putting rental units along frequent transit routes and close to shops and services is actually to look at reducing the amount of cars we need," she said.
Couns. Don Bell and Holly Back, however, argued the surplus of parking spaces could help alleviate the problem of Lions Gate staff parking on residential streets nearby.
"That is such a problem area and, having had a business in that area for so long, those people in those businesses cannot find parking anywhere and they are happy to rent parking, as are the doctors and nurses at Lions Gate," Back said.
Buchanan also took issue with the below-market rentals being offered for just 10 years. One month after the developer submitted the proposal, the city adopted a new policy requiring 10 per cent of all new units to be 10 per cent below CMHC market averages in perpetuity, not just 10 years.