25th Annual Greenwin Cares Charity Golf Classic raises over $300,000 for children in Israel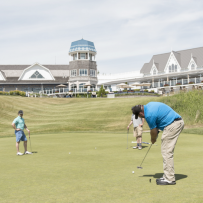 On June 26th, the Annual Greenwin Cares Charity Golf Classic welcomed over 130 golfers, as well as celebrity guests, supporters and volunteers to the Angus Glen Golf Course. This year marked the silver anniversary milestone for the tournament, and since its inception in 1993, it has been a fundraiser for the Israel Tennis Centers Foundation (ITC).
The sun was shining as golfers hit the greens to show off their swing skills. As a nod to the tournament's 25 years, they were joined by Toronto Maple Leaf legend and 1992 – 1993 team captain Wendel Clark and four of his former teammates from the Leaf's record breaking 1993 team; Mike Krushelnyski, Mark Osborne, Dmitri Mironov and Rob Pearson.
On course attractions included swag stations, gourmet eats and refreshments, and the chance to win a luxurious vacation to Fiji or $10,000 cash! Among the highlights of this year's tournament was a personalized, state-of-the-art golf swing analysis. High speed cameras captured golfers from multiple angles, analyzing their stance, swing and speed, later sending a full report with recommendations. The day was capped off with a silent auction and celebratory three-course dinner.
This year's event raised over $300,000, making it one of the most successful tournaments to date. All in all, the golf classic fundraising efforts have raised over $5 million for the Israel Tennis Centers since the first tee off in 1993.
"We see children from different backgrounds and walks of life come together each and every day, learning and growing through the power of sport," said Amy Harrington, Associate Director of the Israel Tennis Centers Foundation. "This tournament and the ongoing support of Greenwin and all of our sponsors is making a difference in the lives of so many children. We're so grateful to be celebrating 25 years of that."
Operating 14 centres across Israel, the ITC has provided services for more than half a million children and their families since opening its doors in 1976, making it one of the largest social service agencies for children in the country. It promotes unity by bringing together youth of different races, religions and economic backgrounds. No child is ever turned away due to financial hardship! Learn more at http://www.israeltenniscenters.org/.
Greenwin Cares implements revitalization initiatives and social programs for all ages in their priority neighbourhoods, creating vibrant environments and promising opportunities for our country's future leaders. Learn more at www.greenwin.ca/greenwin-cares.