2023 SASKATOON REAL ESTATE FORECAST: INVENTORY A BIG CONCERN FOR RENTERS, BUILDERS AND BUYERS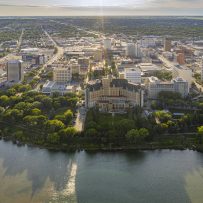 It is difficult for the average person to find a home in Saskatoon.
Whether you are looking for a rental, seeking an existing home or trying to buy a new one, the same problem exists; and according to local industry leaders, the first half of 2023 is unlikely to bring much relief.
Nicole Burgess, CEO of the Saskatoon and Region Home Builders' Association (SRHBA), has seen the issues from two sides of the market.
First, sales of new homes screeched to a halt in the third quarter of the year with "deals are collapsing" due to soaring interest rates, she said.
Banks are not honouring mortgage pre-approvals because interest rates have risen so quickly that the arrangements no longer apply.
"No one is buying because there is so much uncertainty. But if the population is going to grow, we need housing."
Meanwhile, Burgess's experience as a landlord brought home the wider issue. When her tenants in her small older home gave notice, she advertised her property.

"Within 24 hours, I had 500 responses. I was shocked. I don't know where people are living."

Cameron Choquette, CEO of the Saskatchewan Landlord Association, verified that rental vacancies have "trended down" through the fall and early winter, even as prices rose.
'Squeezed by rising costs'
According to rentals.ca, November rent for a two-bedroom apartment or condo rose just over 10 per cent in Saskatoon year over year, while three-bedroom rents were up 15 per cent.
This increase is mostly because rents have not risen much over the last few years. And now, inflation is directly impacting landlords who must pay for wages, goods and services, which get passed down to the tenant, he said.
A vacancy rate is hard to pin down. It's difficult to monitor, and Canada Mortgage and Housing Corp. will not release its estimates until the new year.

There are, however, new purpose-built apartments coming on stream. Indeed, as single-family home building slows, builders are shifting to rentals, now accounting for a significant 48 per cent of all residential construction, according to SRHBA numbers.

"As we wait for new properties to come on the market in the first quarter of 2023, we expect that vacancy will remain tight," Choquette said.

Choquette says his organization expects supply to be stable on the new stock side.

"However, there is a lack of more affordable rental housing and a lack of subsidized housing for the lowest-income folks in the province, which is the segment of the population most squeezed by rising costs," he said.
While rising interest rates are usually associated with difficulties in buying homes, the underlying inflation also affects tenants, he said.

"What we could see amid a high inflationary environment is tenants losing their ability to pay some of these rents because of the cost of everything else going up."

He also sees rental demand remaining firm, if not high, particularly in light of projected immigration numbers from the federal government and Ukrainians displaced by the war coming to Saskatchewan.

He does see some hope on the horizon and noted that Saskatchewan is the most affordable place to rent in the country.

"Our industry continues to deliver strong tenant services that really provide tenants a good bang for their buck," including clubhouses, fitness facilities and pet washes, he said.
He also points to government policy as potentially easing the situation. New housing incentives in Saskatoon and Regina approved this fall may allow small and medium housing providers to more easily add housing stock.

For example, secondary suites or laneway suites could bring "further development along the continuum, not just relying on multi, institutional housing providers," Choquette said.

Chris Guérette, CEO of the Saskatchewan Realtors® Association, pointed to another housing policy that may shift in 2023.

"To me, it's particularly interesting to hear some of the banks talk about revisiting the (mortgage) stress test," she said.

Those applying for mortgages must be approved at two points above the going rate, and many business sectors think that's too high, she said.
"There are many calling to reduce it to 1.5 or even one," she said. In early December, "we heard some banks say maybe it's time to revisit that.

"If the banks are saying that, to me, that's an indication that maybe we are not going to see interest rates lower."
'An unbalanced market'
Guérette has often said that inventory on the existing housing side below $500,000 is very low — too low — and is hampering sales. While demand has slowed, it is still there.
"We're still below, significantly, that 10-year average (inventory number) which is indicative to me we're still not in a balanced market," she said.
"Increasingly, we're also seeing the inventory issue is not just an inventory issue. It's an affordability inventory issue, and that's not going away in 2023.
"Once you start having an affordability issue, that takes a long time for any market to process. Even if we get more inventory on market, I don't think it's going to be resolved in one year."

Guérette said all levels of government must come together to address the housing problem. Low inventory, little building and a tight rental market can't continue for long, especially if the Saskatchewan government sees its population growth goals come to fruition.

She also advocates for loosening regulations around suite development and calls for reducing red tape for builders.

Burgess is calling on the province to extend the PST rebate on new housing and preferably remove the tax altogether.

The rebate is slated to sunset at the end of March. Buyers receive a 42 per cent rebate from the province for homes priced between $350,000 and $450,000. It's a small amount in the scheme of things, but it makes a huge difference to the consumer, she said.
Interest rates will have to peak, stabilize and then come down before housing starts start to come back up, she added. However, Burgess believes the economy is churning along quite well.

"We are concerned about the erosion of affordability and what that means. If we can see some stabilization and get some of that confidence back, I think we're well-positioned.

"There's a good outlook. Things are really bad right now, but there's this expectation that after a couple of quarters, spring will look better."
Story by: Saskatoon Star Phoenix