2019 Residential Tenancies Act Seminars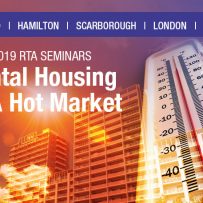 Date and Time: Apr 2, 2019 8:00am to May 2, 2019 12:00pm
Location: Toronto, London, Hamilton, Scarborough and Ottawa
FRPO will once again hold the ever popular Residential Tenancies Act seminars throughout April and May. In the last couple of years, there have been many changes in our industry. This year's event will focus on residential tenancies in a hot rental market. Topics include 'hot button' issues such as rent strikes, Cannabis Act impacts, renting to roommates, rules about obligations when there are floods, explosions, and fires. Additional topics include Privacy Act compliance, Human Rights Risks & Liabilities as well as the risks of "Renovictions".
We will also provide an update on how the new industry lease is holding up at Landlord Tenant Board, changes to visitors parking, post eviction order strategies, serving NORI's by email (but watch out!) as well as social media trolling of landlords and staff. The session will conclude with a case law section dedicated to examples of recent LTB orders and Divisional Court decisions. All seminars are presented by legal experts and each attendee is provided a booklet with all materials. These events are ideal for site staff, leasing agents, property managers, owners and senior management. These events will sell out, we encourage you to register early.
REGISTRATION FEES
FRPO Members – $109.99 plus HST
Non-FRPO Members – $209.99 plus HST
Members of a recognized Regional Association – $159.99 (Please use your promo code)
All registrations include full breakfast from 8:00am-8:40am and seminar will take place from 8:40am-12:00pm
Please select the individual event below to register online.
Please note: All registrations must be done online You will need to log in to access member pricing. If you do not have a login or need to reset your password, please contact us at events@frpo.org. Refunds are not available within 7 days of the event. Registrations are transferable, please email us to confirm a transfer. Thank you
EVENT DATES & LOCATIONS

Toronto – April 2nd Old Mill Register Here
Hamilton – April 4th Waterfront Centre Register Here
London – April 9th Lamplighter Inn Register Here
Ottawa – April 17th – Ottawa Event and Conference Centre Register Here
Scarborough – April 24th Delta East Register Here
Toronto – May 2nd Old Mill Register Here