2018 Annual Rent Increase Guideline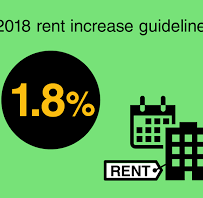 Today the Ontario Ministry of Housing announced that the 2018 annual rent increase guideline will be 1.8%, an increase from the current rate of 1.5%. Click here to read the Ministry of Housing news release. 
The rent increase guideline is the maximum landlords can raise a tenant's rent without approval of the Landlord and Tenant Board, and applies to rent increases between January 1 and December 31, 2018.  The guideline calculation is set out in legislation, and is based on the Ontario Consumer Price Index.
Effective April 20, 2017, the rent increase guideline applies to all rental units in Ontario.   
The government's recent Rental Fairness Act eliminated the post 1991 rent guideline exemption, click here for more information about this change.