2016 Housing market predictions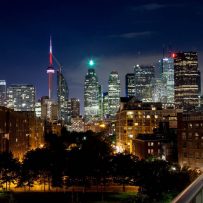 Story by: Josh Sherman | BuzzBuzzHome
To get an idea of what's in store for the Canadian housing market in the coming year, you might want to look back over the past 12 months.
"On a regional basis, it's probably pretty similar to what we've seen through most of this year," says Robert Kavcic, a senior economist at BMO, of his housing market outlook for 2016. By that, Kavcic means he expects to see regional-market performance continue in line with the pattern that has persisted throughout 2015: weakness in the prairies and Atlantic Canada from lower oil prices countered by strong Toronto and Vancouver real estate markets.
But with additional factors like the recent election of a new federal government and the approach of another round of Bank of Canada interest rate announcements, Kavcic and others have weighed in with their predictions for Canadian real estate in 2016.
The Bank of Canada will stick to the sidelines next year unless…
The Bank of Canada followed up a 25 basis point cut to the key interest rate in January with another in July. The overnight rate now sits at 0.5 per cent, and that's where TD Economist Diana Petramala expects it to stay throughout 2016. "We think that a rate cut is a tool the BoC will keep just in case of a further adverse economic shock," she writes in an email to BuzzBuzzHome News. Conversely, Petramala says forecasted annual economic growth of under two per cent should keep the central bank from hiking rates.
Anthony Grantham, a senior economist at CIBC also predicts inaction from the Bank of Canada on the overnight rate front. However, if the bank does make a move in 2016, he thinks it will be a cut rather than a hike. "Our forecast is for them to remain on hold, but it's certainly not a zero per cent probability that they cut again," he adds.
Kavcic agrees (though his prediction is for the Bank of Canada to maintain the current overnight rate for 2016). "Especially given the weakness we've seen in oil prices just over the last couple weeks, it is entirely possible that Canada's economy underperforms what the bank of Canada is expecting and they are forced to ease further," he says.
However, Kavcic notes increased government spending — the Liberals have announced an ambitious plan to spend up to $9.5 billion annually on infrastructure — could stimulate the economy, further lessening the chances of another cut. The first Bank of Canada interest rate announcement of the year is scheduled for January 20th.
Potential oversupply in Toronto and Vancouver condo markets
In October, CIBC released commentary in response to reports of high levels of unsold condo inventory tracked in Toronto. "One thing that we've highlighted before is that people were worried about all of this construction that was going on," Grantham tells BuzzBuzzHome News. "But before we saw quite a lot of inward immigration, particularly into Ontario, which really drove most of the demand for those new houses, for those new condo units."
Now, says Grantham, immigration appears to be fading somewhat while a number of multi-family developments started in the last two years are scheduled to come through the pipeline in 2016 and 2017. "That's also one of the things that we're thinking about for Vancouver as well," he explains. "It would be a similar concern there."
Continued price appreciation in 2016
Despite low oil prices, a struggling dollar, and a sluggish manufacturing sector, some analysts say there's more room for Canadian home prices to grow in 2016.
In its outlook for 2016, RE/MAX recently projected Canadian home prices would climb by 2.5 per cent, with the Toronto and Vancouver markets posting increases of five per cent and seven per cent, respectively. Petramala agrees continued home price appreciation is possible — for the short term.
"Home price growth may remain positive in 2016," says Petramala. "But given a drop in sales in 2016, we could see more weakness in prices in 2017," she adds, noting that the impact on prices tends to lag behind actual housing demand. "We have prices contracting by two per cent in 2017."
More tough times ahead for the Prairies
"Existing home sales are down 25 per cent year-over-year in Alberta and Saskatchewan combined, and home prices are already down between four per cent and five per cent in Calgary and Regina," says Petramala. "The downturn will only deepen with continued weakness in oil prices through 2016," she predicts.
One challenge economists outlined for the housing market in the Prairies is the unemployment rate; people typically aren't in the market for property when they don't have jobs, and layoffs in the energy-sector are likely to mount as a result of lower oil prices, says Grantham. "We could very well see a recovery from where we are in the moment, but there's still a lot of negatives to come through in terms of employment in some of those oil-producing provinces," he says.
Grantham says there are "second-round" impacts on employment to be felt as consumer spending declines among oil-industry workers leading to potential job losses in segments such as retail, for instance. "There probably are some more negatives to be felt throughout 2016 and maybe — unless we see a very quick recovery in oil prices — well into 2017 as well."
Already, Petramala highlighted how Alberta's November unemployment rate of seven per cent was just 0.3 percentage points shy of the peak seen during the Great Recession — an important factor to consider when looking forward.