2015 Webcon Rental Marketing Awards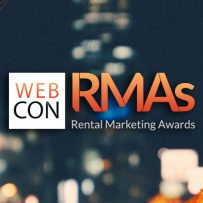 Last week to submit your Nomination.
Nominations close March 31st!
This isn't your average awards show! The WEBCON Rental Marketing Awards will celebrate the outstanding and innovative online marketing achievements of the rental housing industry. The industry has seen impressive and forward-thinking changes to online marketing ideas and strategies in the rental industry in the last 4 years. As a result, we felt it was time to seize the opportunity to recognize and celebrate the 'best of the best'.
Now's the time to show off what you do best. Submit your nomination to one of the categories by March 31st​and you could be a finalist at the First Annual RMAs!
Nominate your company today!
Find the category that best suits you. More than one? Go for it, there is no limit to the number of categories you can submit to. Also, did we mention its totally FREE!
The categories
Property Management Awards:
Best Corporate Website Owning Under 2500 Units Best Corporate Website Owning Over 2500 Units Best Single Building Website
Best Mobile Experience
Best Marketing Strategy of the Year
Best Use of Social Media
Best Content Strategy
Most Consistent Brand
Biggest Disruptor
Industry Supplier Awards:
Favourite ILS Most Innovative ILS Best Mobile Experience Biggest Disruptor
Learn more about each category:
www.rentalmarketingawards.com
Register at our website to begin the submission process:
rma.adbest.com/registration
Awards will be audited by Deloitte.
Keep this in mind
Don't be shy, you can totally nominate yourself.
It's Free, there is no fee to submit.
You can submit a 2 minute video or screencast. How cool is that? *We recommend using this software, its free*
www.screenr.com
—
The awards will be held at the Pearson Convention Center on May 13th, 2015. Hosted by Ben Mulroney.
Learn more at w​ww.rentalmarketingawards.ca