2014 APARTMENT MARKET REPORT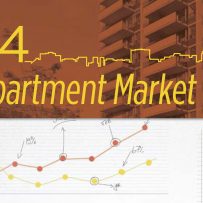 The RHB Apartment Market Report for 2014 reports on the current state of the rental housing industry across Canada, including vacancy rates and average rent increases. Also provided are economic and apartment sales forecasts for 2014 and 2015. The report has been prepared by John Dickie, CFAA President, and Tony Manganiello of Cushman & Wakefield, using the CMHC Fall 2013 Rental Market Surveys, CMHC Housing Market Outlook, Canada Edition – First Quarter 2014, and proprietary data and asset price forecasts provided by Cushman &Wakefield.
The report breaks down the Canadian market by province and major cities within five regions, namely Atlantic Canada, Quebec, Ontario, the Prairie provinces and BC. The vacancy and rent figures reported below are for buildings of three units or more for census metropolitan areas. They show considerable variations between and within regions.

ATLANTIC CANADA
In Atlantic Canada, vacancy rates rose between October 2012 and October 2013, most notably in Saint John, NB, where the rate rose from 9.7 % to 11.4 % and in Moncton where the rate rose from 6.7% to 9.1%. St. John's, NL, experienced a modest increase in the vacancy rate, along with an average rent increase of 5.2 %.



In Newfoundland and Labrador, economic growth is expected to be 1.5% in 2014, (down from 5.0% in 2013.) In St. John's, CMHC expects the vacancy rate to nudge up to 3.5% while rents increase by 4.2%.
Nova Scotia and Halifax forecasts
In Nova Scotia, economic growth is expected to be 1.0% in 2014 and 1.6% in 2015, while the unemployment rate remains flat at 9.3%. In Halifax, CMHC expects the October 2014 vacancy rate to rise to 4.3%, while rents rise by 1.9%. For 2015 the vacancy rate forecast is 4.6%.
On the apartment sales front, 2013 was a very quiet year for Halifax. This resulted more from the supply side than the demand side, because the market is dominated by investors who want to grow their existing portfolios. New apartment construction recently surged in Halifax, which is causing the rental market to soften. From 2001 to 2010, Halifax averaged 650 multi-family starts per year. 2012 saw the addition of 1,600 units, while CMHC is forecasting another 2,500 starts over the next 12 – 18 months.
Local developers and apartment owners are starting to feel the increase in supply as a rise in the vacancy rate. New projects are now taking up to 18 months to fully absorb, and the vacancy rate in the older, existing product is creeping up even in prime downtown Halifax locations. Building prices can be expected to stay flat given the increase in supply and the rising vacancy rates and moderating rents that new supply will produce.
New Brunswick and PEI forecasts
In New Brunswick, GDP growth is expected to be 0.6% in 2014 and 0.9% in 2015. Unemployment is forecast to rise to 10.6% despite some net out-migration. In 2014, CMHC expects vacancy rates to remain high at 9.0% to 11.5%, while rents increase slightly.
In PEI, economic growth is expected to be close to 1.0% in 2014, while the unemployment rate remains at 11.2%. In Charlottetown, the vacancy rate is forecast to increase to 9.0%, while CMHC expects rents to increase by 2.0%.
QUEBEC
In Quebec City, the average vacancy rate rose slightly between October 2012 and October 2013, while it remained stable in Montreal. Rents rose slightly in Quebec City and modestly in Montreal, the reverse of last year.


Quebec forecasts
In the province of Quebec, GDP growth of 1.7% and 2.0% is expected in 2014 and 2015 respectively. On the demographic front, net migration will be limited by the more
attractive labour markets in Ontario and the West. Total net migration is expected to approach 44,000 people in 2014 and 46,000 in 2015 (mostly from abroad.) Starts of multiple dwellings are projected at 24,800 units in 2014 and 25,400 in 2015.
In Quebec City, CMHC expects the vacancy rate to rise slightly to 2.5%, while rents rise by 1.7%.In Montreal, the vacancy rate is expected to fall slightly to 2.6%, while rents rise by 1.4%. The vacancy rate in Montreal has remained relatively stable in recent years, having varied between 2.4 % and 2.9 % since 2006.
Montreal forecasts
According the CMHC Rental Market Survey conducted in October 2013, demand for rental housing was limited by the continued strong movement to homeownership among young households (aged 25 to 34.) However, this factor was offset by the still high net migration into the Montreal CMA and the recent improvement in youth employment. On the supply side, compared to the size of the Montreal rental market, very few new rental units were added to the market in 2013. The level was about 1,500 new conventional rental dwellings, compared to some 2,300 per year in the early 2000s. There were more rental condominiums added to the supply than conventional rental housing units. In the end, with supply and demand having shown little change, the vacancy rate remained stable.
Montreal is considered to be one of Quebec's most desirable and livable cities, and boasts one of the highest percentages of renters in Canada. The metropolitan area of Montreal continues to be a draw for many within the province due to the established high-tech and education sectors. Once seen by large institutions as the last affordable market for asset acquisitions, today demand has driven prices higher, which has resulted in asset values more in line with other large Canadian metropolitan areas. Those values should remain the norm for sales in 2014.
ONTARIO
In Ontario as a whole, the average vacancy rate was virtually unchanged between October 2012 and October 2013, moving from 2.5% to 2.6%. Most regions within Ontario showed only minor changes, some up and some down. The exception was Windsor where the vacancy rate fell from 7.3% to 5.9%, even though landlords achieved a modest average rent increase of 2.0% there. Average rents went up 2.9%, 3.1% and 3.2% in Toronto, Hamilton and Kitchener –Waterloo respectively. (Both Hamilton and Kitchener-Waterloo had seen increases of 3.1% between 2011 and 2012.)


Ontario forecasts
According to CMHC, Ontario will see increased economic growth in 2014 and 2015, due to an improving US and world economy. Higher earnings and an increased overall population will create some increased demand for both owner-occupied and rental homes. However, supply will largely keep pace with demand.
Ontario economic growth is forecast to improve gradually, rising from an estimated 1.6% in 2013 to 2.6% by 2015. Ontario's unemployment rate should trend lower. Migratory outflows from Ontario will lessen as economic growth rebalances somewhat across Canada in the years ahead. Net migration to Ontario will rise, and reach 87,600 and 95,500 net migrants by 2014 and 2015 respectively. Multiple housing starts will slow to 37,800 and 36,700 units in 2014 and 2015.
CMHC forecasts modest changes in the vacancy rates in 2013, along with modest rent increases. Among the major centres, average rent increases are forecast to be 0.6% in Toronto, 0.7% in Sudbury, between 1.0% and 1.7% in Windsor, Hamilton and London, and 2.4% or 2.5% in Kitchener-Waterloo and Ottawa.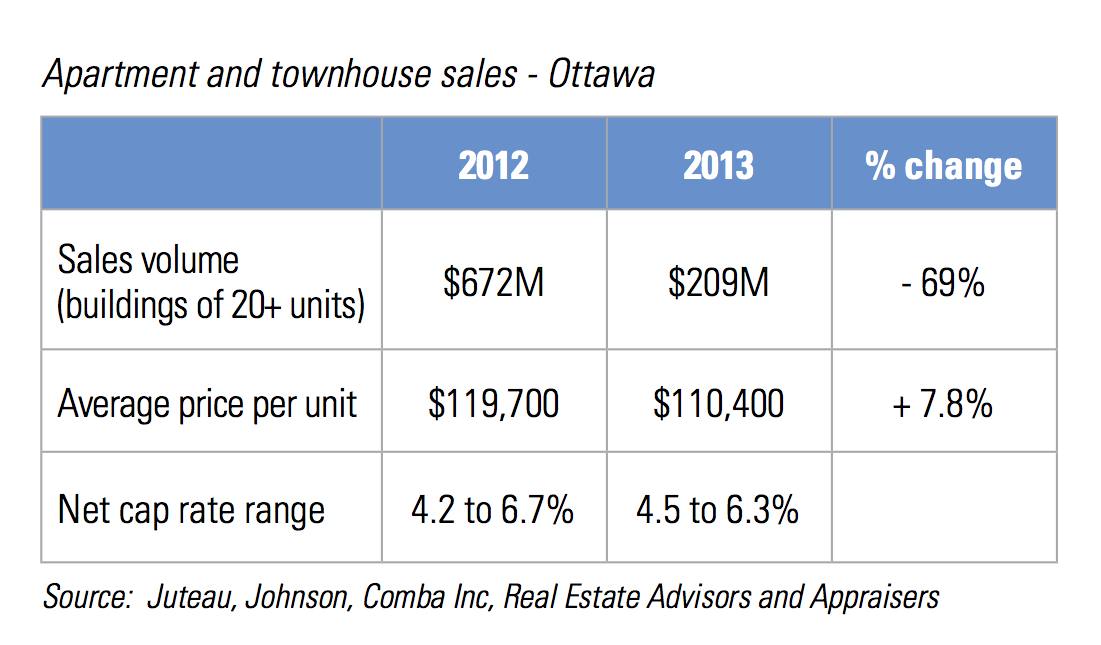 2012 saw a very high sales volume in Ottawa due to a number of portfolio transactions, including major high-rise complexes. We can expect a more normal sales volume, like the 2013 volume, to continue in 2014.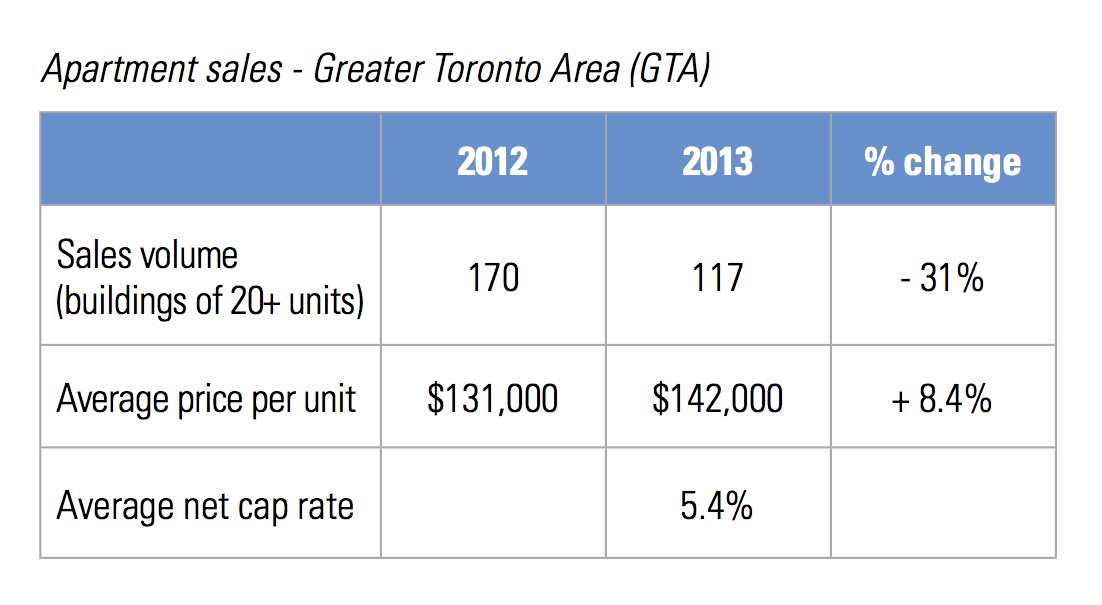 2013 was the third slowest year for sales since 2001. We can expect an increase to a more normal sales volume in 2014.
Asset market forecast
Along with Vancouver, the Greater Toronto Area is still the preferred investment market for both domestic and international investors. With a majority of the immigrants settling in those centers, they continue to be safe bets for multi-family investment plays. With prices reaching and in many cases surpassing even the most optimistic projections, the appetite for aggressive purchases has decreased as bidders are becoming more rational in pricing by factoring in possible 'what if' risk scenarios.
While the Ontario economy has shown unremarkable employment growth in the past three years, home-ownership has become less affordable. That is keeping more would-be first-time home buyers in the rental market, maintaining downward pressure on vacancy rates, particularly in high demand areas of downtown Toronto and the 905 suburban markets.
Apartment investors in Ontario should expect continued strong demand for well-located product resulting in upward pressure as competition for more desirable rental product intensifies. Looking forward, market dynamics are unlikely to change as purpose built construction is expected to remain subdued and demand relatively high. However, the supply of for-sale condos is set to increase as completions are expected to rise slightly in the next two years. As it has for many years, the supply of condos for rent will continue to moderate the upward pressure on high-end apartment rents, and thus the upward price movement of those apartment assets.
MANITOBA, SASKATCHEWAN AND ALBERTA
In Winnipeg and Regina the vacancy rate rose, while it remained flat in Saskatoon and fell in Calgary and Edmonton. Not surprisingly, rents in the Prairies continued to show strong rent increases due to the region's economic strength, with the largest rent growth in Calgary at 7.2% followed by Edmonton at 5.6%. With the exception of an average rental decrease in 2009, Edmonton rents have increased every year since 1995.


Manitoba forecast
Manitoba's economy is projected to grow by 2.2% in 2014 and 2.5% in 2015. Employment in Manitoba is projected to rise by 1.0% in 2014 and 1.2% in 2015. Following an estimated gain of 8,600 people in 2013, net migration is expected to be 8,500 in 2014 and 8,400 in 2015. In 2013, wage growth below inflation held back some new home purchases. Increasing inventories and high vacancy rates will cause builders to moderate production to 3,200 multiple housing starts in both 2014 and 2015. In Winnipeg, CMHC forecasts the rental vacancy rate will increase from 2.5% to 2.8%, while rents will rise by 4.2%.
Saskatchewan forecast
Saskatchewan's real GDP is projected to increase by 2.4% in 2014 and 2.6% in 2015 due to the improving global economy. Employment growth in Saskatchewan is projected to be 2.1% in 2014 and 1.8% in 2015. Substantial net migration will continue to support housing demand, with a net population growth of 12,700 people in 2014 and 10,800 in 2015, although levels will be below the high levels experienced in 2012 and 2013. After decreasing from an elevated level to 4,106 units in 2013, multiple housing starts are forecast to moderate to 3,800 units in 2014 and 3,700 units in 2015. CMHC expects both Saskatoon and Regina to see modest increases in the vacancy rate, to 2.8% in both cities, with rent increases in the range of 3.1% to 3.3%.
Alberta forecasts
In Alberta, a faster-growing U.S. economy in 2014 is expected to help increase real GDP by 3.1% in 2013 and 3.0% in 2015, with employment growth of 2.3% in 2014 and 2.2% in 2015. Alberta's population grew around 3.5% in 2013, thanks to a record level of net migration of close to 100,000 people. Net migration is expected to moderate to 71,000 people in 2014 and to 63,000 in 2015. Population growth will drive economic growth and housing demand. After rising to 17,580 units in 2013, multiple housing starts are projected to increase to 18,000 units in 2014 and then to moderate to 17,600 units in 2015.
Oil production continues to increase to record levels despite current transportation obstacles, most notably the lack of the proposed Keystone XL and Northern Gateway pipelines. CMHC estimates more than 30,000 new residents will be moving to Calgary this year giving the city a population growth rate of 3% per year. Consumer spending surged by over 6%, and housing starts and prices continue to escalate rapidly. The devastating floods which ravaged Calgary and southern Alberta, along with continued provincial population growth, will encourage increased spending on infrastructure, housing, and consumer goods and services.
CMHC expects to see small increases in the vacancy rates in Calgary and Edmonton (to 1.2% and 1.6% respectively), while average rent increases are forecast at 4.6% and 3.0% respectively. Cushman & Wakefield forecasts Calgary vacancies to tighten in an already crimped market dropping below 1%. As a result of tightening vacancies, rents have risen 7.9% to an average $978 per month.
In the Calgary CMA, apartment building prices peaked in early 2013 and have stabilized since then, but sales activity was slow due to limited supply of buildings for sale. In 2013, the sales volume dropped off by more than half since 2012 and was only about a third of what it was in 2011. The tightening market has spurred some developers into action planning new rental buildings, with some projects breaking ground this year.
Moving to the Edmonton market we see much of the same dynamics at work as in Calgary. Optimism continues to drive the Edmonton economy and positive momentum will foster Canada-leading-growth throughout 2014. Multifamily property continues to entice purchasers seeking a stable cash flow investment. Vacancy hovering just above 1%, coupled with persistent and escalating in-migration provides a compelling reason to buy. Owners who were reluctant to part with coveted assets are beginning to yield and prices have risen to levels not easy to ignore. Slight increases in mortgage rates have prompted many cautious purchasers to offer higher prices and buy now as opposed to waiting while interest rates creep upwards. As a result, there was a slight decrease in capitalization rates, which averaged 6.1% in 2013 as compared to 6.3% in 2012.
The total Edmonton CMA transaction volume in 2013 was $325 million. Volume was up 55% from 2012 which saw $210 million in sales. During 2013, 71 buildings comprising 2,484 units sold for an average price of $130,850 per unit. However, the average is skewed by several large sales of newer buildings, and a few institutional grade high-rises, which sold at very high prices. The average price per unit for a wood-frame walk-up apartment, built prior to 1990, with less than 50 units, was $110,300.
In 2014, expect aggressive purchasers to be the successful in new acquisitions. Continued low vacancy and continued rent increases will ensure multi-family remains a highly sought-after asset class. Rapid spikes in rents will be tempered, however, by the addition of over 5,000 new rental units currently at different stages in the construction pipeline. This rental building boom, the greatest since the late 1970s and early 1980s, will help to ease some competitive pressures and ensure Edmonton continues to be an attractive option for would-be migrants.
BRITISH COLUMBIA
In Vancouver and Victoria, British Columbia, the reported vacancy rates were stable. In Vancouver average rents went up by 2.1%, while in Victoria the average rent increase was 0.7%.


BC forecasts
As measured by real Gross Domestic Product ("GDP'), the British Columbia economy is forecast to grow by 2.3% in 2014 and 2.8% in 2015, compared to an estimated 1.7% in 2013.
Employment is expected to grow by 1.5% in 2014 and 2.4% in 2015, following a slight contraction in 2013. Despite the absence of employment growth in 2013, a rising share of full-time employment boosted growth in average weekly earnings above the national average. This rising trend is expected to continue. The BC population is forecast to grow about 1.0% per year. Net international migration is expected to continue at close to 40,000 people per year in 2014. Multi-family housing starts in BC (including both condos and rentals) should stay flat at 18,700. Vacancy rates in the purpose-built (conventional) rental market are forecast to be 2.1% in Vancouver and 3.0% in Victoria (both up slightly), while average rents are expected to increase by 1.5% in Vancouver and 0.7% in Victoria.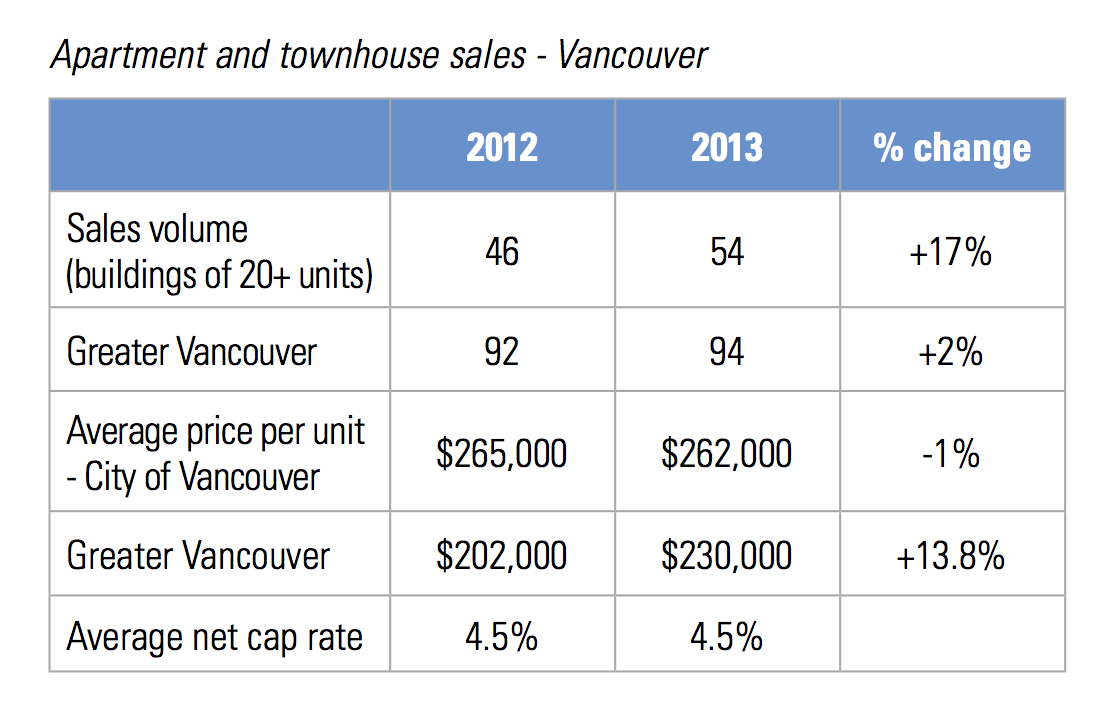 Vancouver has long been one of the most desirable places in Canada to own and manage multi-family assets. It continues to impress market watchers with record low cap rates and some of the highest rents in Canada. Both sale volumes and building prices can be expected to remain strong in 2014.