12-Storey Affordable Rental Proposed on Kipling in Rexdale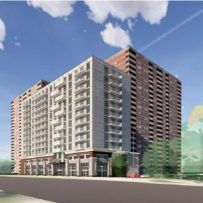 As a housing crisis grows more urgent across the region, the City of Toronto's 2016-approved Open Door Affordable Housing Program is finally starting to net results. The program aims to incentivize affordable housing construction by providing financial contributions and tax cuts for developers. One result is a newly submitted application for an affordable housing project at 2667 Kipling Avenue, a short distance north of Finch Avenue West in Etobicoke's Rexdale area. The property borders on verdant public parkland of the Humber Valley.





Site of 2667 Kipling, image via submission to City of Toronto
The application seeks rezoning to permit a 12-storey rental apartment building which would reach a height of 40.8 metres measured to the top of a mechanical penthouse level. The Turner Fleischer Architects-designed infill building would create a street wall along Kipling Avenue at what is a Tower-in-the-Park style complex currently consisting of two rental towers owned by Humber Properties.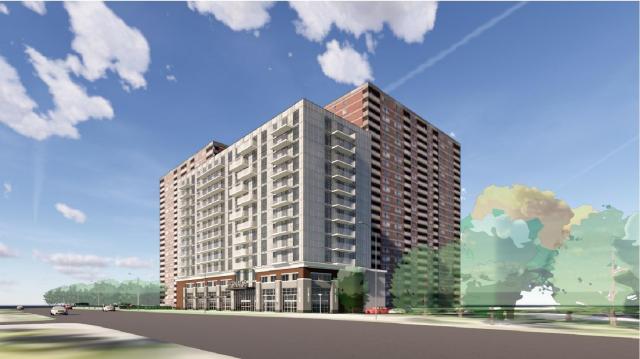 The building's ground level would meet Kipling Avenue with 423 m² of retail space and a 123 m² medical centre. An additional 434 m² on the second floor is to be used for the medical centre, while 590 m² of space will be indoor amenities for the residential units above.
Above, the tower houses 120 affordable rental apartments. The project is unique in its unit count, which proposes entirely multi-bedroom layouts and no studio or one-bedroom floorplans, including 303 two-bedroom units with average sizes of 78 m², and 272 three-bedroom units with average sizes of 111 m².