Marketing
The world of online marketing and advertising can be more confusing than a Rubix Cube (apologies for the frustrating '80s throwback). Between SEO, SMM, PPC and other TLAs (Three-Letter Acronyms), it is hard to know which one is right for you. To help demystify this online Rubik's Cube, let's break down Realtors' online marketing and advertising options. 1. SEO Effort: Long-term Results: Long-term Cost: High to begin ranking well – but lower overall Search Engine Optimization, or SEO, is the...
read more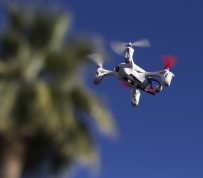 If you're a fan of technology, you've probably heard of CES, a consumer electronics and consumer technology trade show that takes place every year in Las Vegas. This year's show runs from January 5th to 8th, and to mark the occasion we've rounded up five of the coolest home tech products on display. Scroll on to meet some of the futuristic devices you could soon be using in your home. 1. Kuri by Mayfield Robotics Photo: Mayfield Robotics If you're looking for a smart home hub that can play...
read more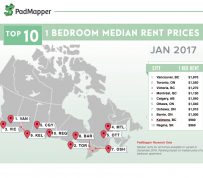 Story by: The Huffington Post Canada  |  By Daniel Tencer For years, Canadian house prices outpaced rental price growth by leaps and bounds. But recently it's started to look like rents may be catching up. Apartment listings site Padmapper's latest monthly rent report for Canada shows two-bedroom units in Vancouver and Toronto — Canada's priciest places to rent — have jumped by 14.5 per cent in both cities in the past six months. In Vancouver, a two-bedroom place is averaging $3,150 this...
read more
Story by:  Justin da Rosa Your potential clients are increasingly turning to Kijiji to find their next rental. We spoke to the popular website about which markets are the most desirable, and which may provide the best bang for your buck in the future. Kijiji Real Estate receives more than 4 million monthly unique visitors, according to Comscore. It examined apartment/condo for rent listing data for all of 2015 and 2016 to examine trends in listing supply, pricing and time to rent within all of...
read more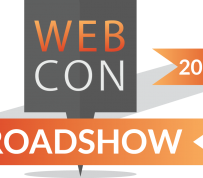 We want to reach more people than ever before and make accessibility to the event paramount for everyone. Welcome to the WEBCON Roadshow. Since 2011, Landlord Web Solutions has hosted WEBCON, the premier rental housing marketing conference in Canada. The original format was a 1 day event held each May in Toronto.  In 2016, the event was expanded to 1.5 days and was moved to Niagara Falls. Turnout has continued to remain strong over the years, consistently attracting 300+ attendees from across...
read more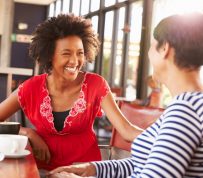 Let's be honest: Filling a vacancy is a hassle. It takes time, it sometimes means losing out on rent, and it's probably something you prefer to do as infrequently as possible. So if you have a good tenant, how do you get them to stay? While some factors are beyond your control, such as your renter relocating for a new job, there are several things you can do to keep your reliable tenant happy and eager to renew. Why renters stay Renters stay put for a number of reasons: They may prefer the...
read more
Thank you to everyone who attended this event held on Thursday, December 1st at the Metro Toronto Convention Centre.  We are pleased to have set new attendance and submission records. The MAC Awards provide the opportunity for our industry to celebrate innovation, our commitment to quality and everything that goes into promoting the brand of rental housing. We are pleased to announce this year's winners and offer our congratulations. Lifetime Achievement Recipient
 Ignat Kaneff, Kaneff...
read more
Coming to a small screen near you! January 2017 is the start of a New Year and time for #reflections, a new auto-biographical mini-series of high quality films showcasing leaders of the Canadian real estate sector sharing personal stories, journeys and achievements. The premiere of the series features Greg Romundt of Centurion Asset Management who will share his personal rise to success and Centurion's record setting milestones. "This was a different experience for me. It's enlightening to...
read more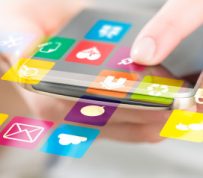 Story by: Jason Meller Last year I wrote a piece for The Huffington Post titled "Social Media Is This Generation's Guerrilla Marketing." It was in part a recap of my own adventures of sorts, detailing how I was using social media to promote my novel release on Amazon. But more so, the idea behind the blog was to show how many other people I knew, from different walks of life, were also navigating down a similar road, trying to stay ahead of the social media curve, in order to...
read more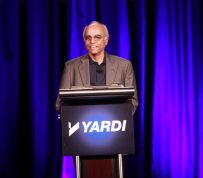 Award acknowledges CEO Anant Yardi's nearly 40 years of work supporting the apartment industry The National Apartment Association (NAA) honored Anant Yardi's service to the apartment industry with a rare Lifetime Achievement Award. The accolade was presented to Mr. Yardi, Founder and President of Yardi Systems, at a luncheon in National Harbor, Maryland, on Nov. 11. NAA Chairman of the Board Marc Ross presented the award. "The Lifetime Achievement Award is NAA's most prestigious honor. It is...
read more