Events
Story by: Joe Hoffer, Partner  |  Cohen Highley LLP Lawyers Attached is a link to the new forms which allow tenants to break their leases on 28 days' notice because of fear of abuse.  Make sure your staff know what these forms are and what to do if they are given one.  Remember, the fines for a breach of the secrecy requirements are up to $100K plus civil liability if a tenant is further harmed as a result of the breach.  Here is a link to the forms Tenant's Notice to End my...
read more
With nine innovative sessions, a brand new Awards ceremony and a wide-range of exhibitors, this year's Energy into Action is a "can't miss" event. It's the opportunity to hear from industry experts, attend sector-specific sessions, network with peers and exhibitors, and find out how incentives can help you upgrade and save. This conference is free to attend, but space is limited – reserve your spot today! When Wednesday, September 21, 2016 8:30 – 2:30 p.m. Registration opens at 7:30 a.m. Where...
read more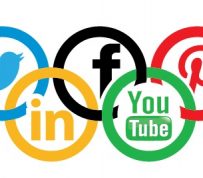 Story by: Sarah Rodrigues, The Skyline Group of Companies With the Olympics opening this past weekend, this seems like a great opportunity to engage with your residents online. Your company might be tempted to jump on social media to congratulate athletes, share Canadian pride, or hold an Olympic-themed contest. These are just some of the things that are completely off-limits to non-sponsor brands during the Olympics, since the International Olympic Committee (IOC) updated its guidelines this...
read more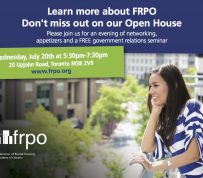 Do you want to learn more about FRPO and how we can help you? Please join us at our Open House on July 20th for an evening of networking, appetizers and a free Government Relations seminar presented by FRPO President; Scott Andison.  This event is open to all FRPO members as well as potential members. This is the perfect opportunity to meet the FRPO staff as well as find out ways that FRPO can assist you through our various member benefit programs and services. All attendees will be entered...
read more
FRPO – Residential Tenancies Act Seminars April 6 – 28, 8am – 12 noon Various Cities The Federation of Rental-housing Providers of Ontario (FRPO) will host its spring Residential Tenancies Act Seminars in April 2016. The half-day seminars will cover various aspects of the RTA, including dispute resolution, housing new Canadians and real-life cases. For more details, please visit: www.frpo.org/events   LPMA – Trade Show April 12, 6 – 8pm London – Greek Hellenic Centre The London...
read more
  LPMA– Member's Dinner and General Meeting – March 8,5:30 – 8:30pm London – Lamplighter Inn The London Property Management Association (LPMA) will host its members' dinner and general meeting on March 8 from 5:30 to 8:30 pm. The dinner sign-in and networking portion of the evening will take place from 5:30 to 6:00 pm. Dinner will commence at 6:00 pm, and from 6:45 to 7:00 pm the general meeting sign-in and networking will occur, with the general meeting to follow. For more...
read more
  FRPO & GTAA – CMHC Rental Market Survey Breakfast February 2, 8:00 – 10:45am Toronto – Old Mill Inn & Spa Join us at this FRPO/GTAA event as CMHC provides the results of the 2016 Rental Market survey. CMHC will be sharing some key findings from the survey for the Greater Toronto Area.  Trends in other major Ontario centres will also be discussed.  The presentation will conclude with an outlook of where rental markets are headed in 2017 as well as an interactive panel...
read more
Wishing every day of the New Year be filled with Success, Happiness & Prosperity! From our family to yours, Happy New Year! 
read more
Ushering a new era in news for Canada's Apartment Industry Professionals Last year the RHB Insider Network was well received and more importantly well viewed. RHBIN video interviews provide our audience with an inside look as our guests share inside information and engage in open discussions that elaborate on timely issues and decision-making processes affecting the rental housing industry. The challenge was now to continue delivering on topics you want to know more about in an even...
read more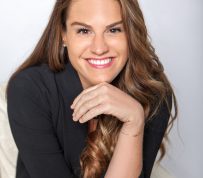 RHB Insider Network (RHBIN) is proud to announce Jessica Green as the new host and anchor of Canada's leading apartment video series. Communications and digital media marketing specialist Jessica Green will be the new lead host of Canada's top property management film series. Green, whose clients range from tech start-ups and local retailers to non-profits and national apparel manufacturers, started her company, Cursive PR, to help brands discover untapped digital opportunities that inspire...
read more